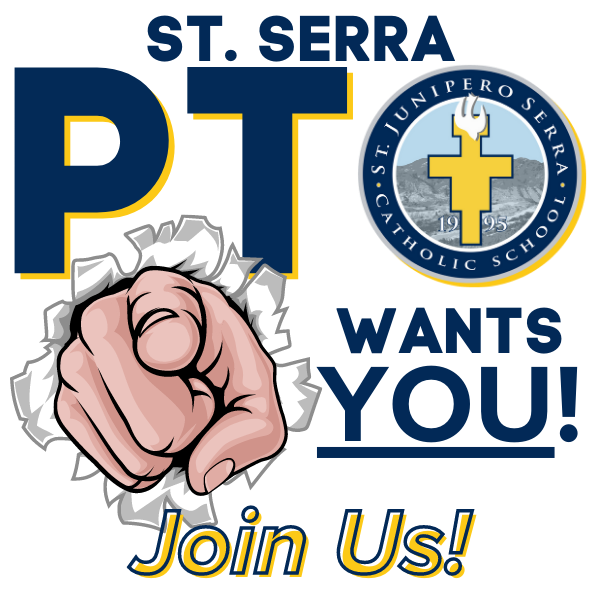 Join the PTO!

If you are interested in getting involved with the PTO Board and/or events for the 2023-24 school year, we would love to hear from you! Please click the link below to complete a short interest survey.
PTO OVERVIEW
PTO AT-A-GLANCE
The St. Junipero Serra Catholic School Parent Teacher Organization (PTO) oversees many fundraisers, community events, activities and parent groups which benefit all students at St. Serra. See our PTO Events and Programs page for current PTO happenings.
MAJOR FUNDRAISERS
These annual events support St. Serra's operating budget and help keep educational costs affordable for all.
• Golf Classic: Adult-only golf tournament, happy hour and silent auction. Traditionally held in the Fall.
• Seasons Tuition Assistance Luncheon: Held annually directly after our Catholic School's Week Open House, this beautiful luncheon raises funds specifically for Tuition Assistance.
• Anchor Ball: St. Serra's largest fundraiser of the year, usually held in the Spring. This formal, adult-only event includes dinner, a silent auction, live auction, music, dancing and various opportunity drawings.
COMMUNITY BUILDING EVENTS
Focused on bringing families together in fellowship and strengthening our community through fun-themed events that also support our fundraising efforts.
• Fall Family Event (Concert on the Green)
• Family FUNraisers
• Book Fair
• Serra Socials (various events throughout the year)
• Father Daughter Dance
• Mother Son Event
• Trunk or Treat
• Wizards Basketball
OUTREACH MINISTRIES
Serves our parent community through specialized ministries.
• Welcome Ministries: New Family Ambassador Program
• Assistance Ministries: Serra Cares Ministry, Adopt-A-Family, SerraServes
• Parish Partnership: Parish Partner Program
TEACHER, CLASSROOM & SCHOOL SUPPORT
Provides the crucial link between St. Serra parents and their teachers, including the organization and coordination of parent volunteer help in the classrooms.
• Room Parent Coordinators (RPC's): Coordinate the efforts of our Room Parents and Classroom Project Coordinators across all grade levels, while being voting members of the PTO Board.
• Teacher Appreciation Week: One week each year in which the entire St. Serra community comes together to show appreciation for all that our teachers do for our children.
• Staff Treat Days: Hosted three times a year. Day of appreciation for all St. Serra staff coordinated and planned by groups of RPC's and related Room Parents coordinating parent's efforts.