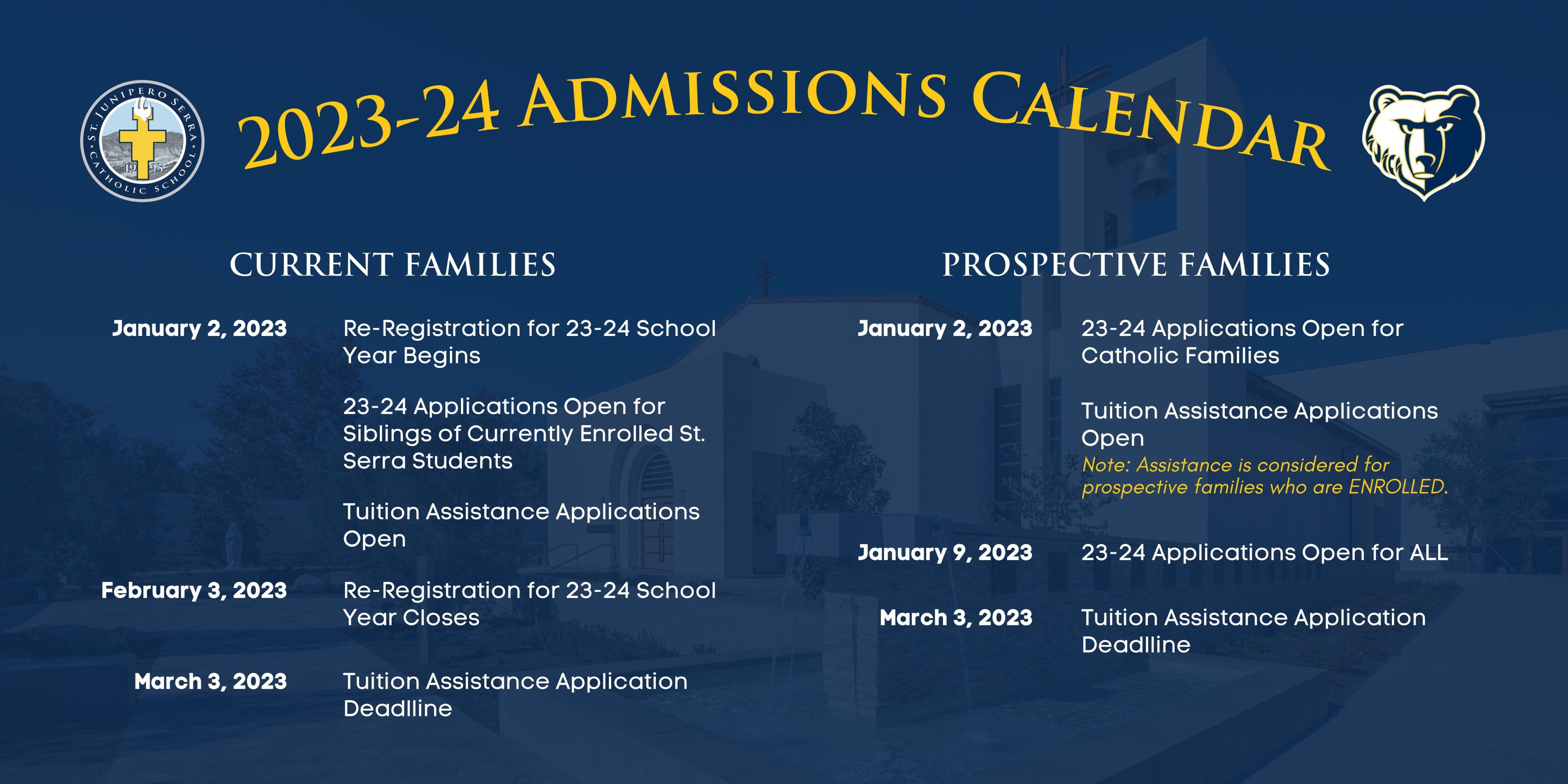 ADMISSIONS PROCESS AND INFORMATION
Prospective families are encouraged to contact our Admissions Team to schedule a phone call and/or campus tour, and learn more about St. Junipero Serra Catholic School.
Once families are ready to move forward, they will need to complete an online application. The online application can be saved, allowing you to stop at any point and continue later when you are ready to do so.

Please be prepared with the following items that you will be asked to upload with your online application (scanned pdf documents work best).
Birth Certificate
Current Immunization Records (from your Doctor)
Report Cards
Standardized Testing, if applicable
Photo of Applicant
Once you submit an online application, our team will be notified. Admissions will confirm receipt of the application within 1-2 business days. Once received, the applications will be sent internally for review. Please allow 3-5 business days.
Once you have been accepted, you will be notified via email with an official acceptance letter, which will include detailed instructions on finalizing your enrollment. This process takes about 15 minutes and will include a financial commitment. All legal guardians and parents must be the primary stakeholders. If your finances are to be covered by another family member, please let us know after you complete enrollment.
Priority of Admission
Priority of admission shall be given first to practicing members of our four Catholic Parish communities: Holy Trinity, San Francisco Solano, Santiago de Compostela and St. Kilian. Parents must subscribe to the school's philosophy and agree to abide by the educational policies and regulations of the school. St. Junipero Serra Catholic Preschool will consider applications from outside our parish communities. Siblings of current students are given priority in admissions. Re-admission is not automatic. Active family participation is evaluated by school annually.
Shadow Program
Ever wonder what it's like to be a Serra Bear? The best way to discover what life is like at St. Serra is to shadow at our school! We will match your child with a current St. Serra student who shares their interests. Your child will have the opportunity to ask questions, tour our campus, attend classes, and gain insight into student life at St. Serra! Please contact our Admissions Office for more information and to find out about availability.