OUR CORE VALUES
At St. Serra, we recognize and operate from eight fundamental principles from scripture that we refer to as our Core Values. Our Core Values are visible on the blue banners alongside the Chapel Gate. These Core Values not only remind us of what is important in life, but they also help guide our behaviors, decisions, and actions. Our eight Core Values are as follows: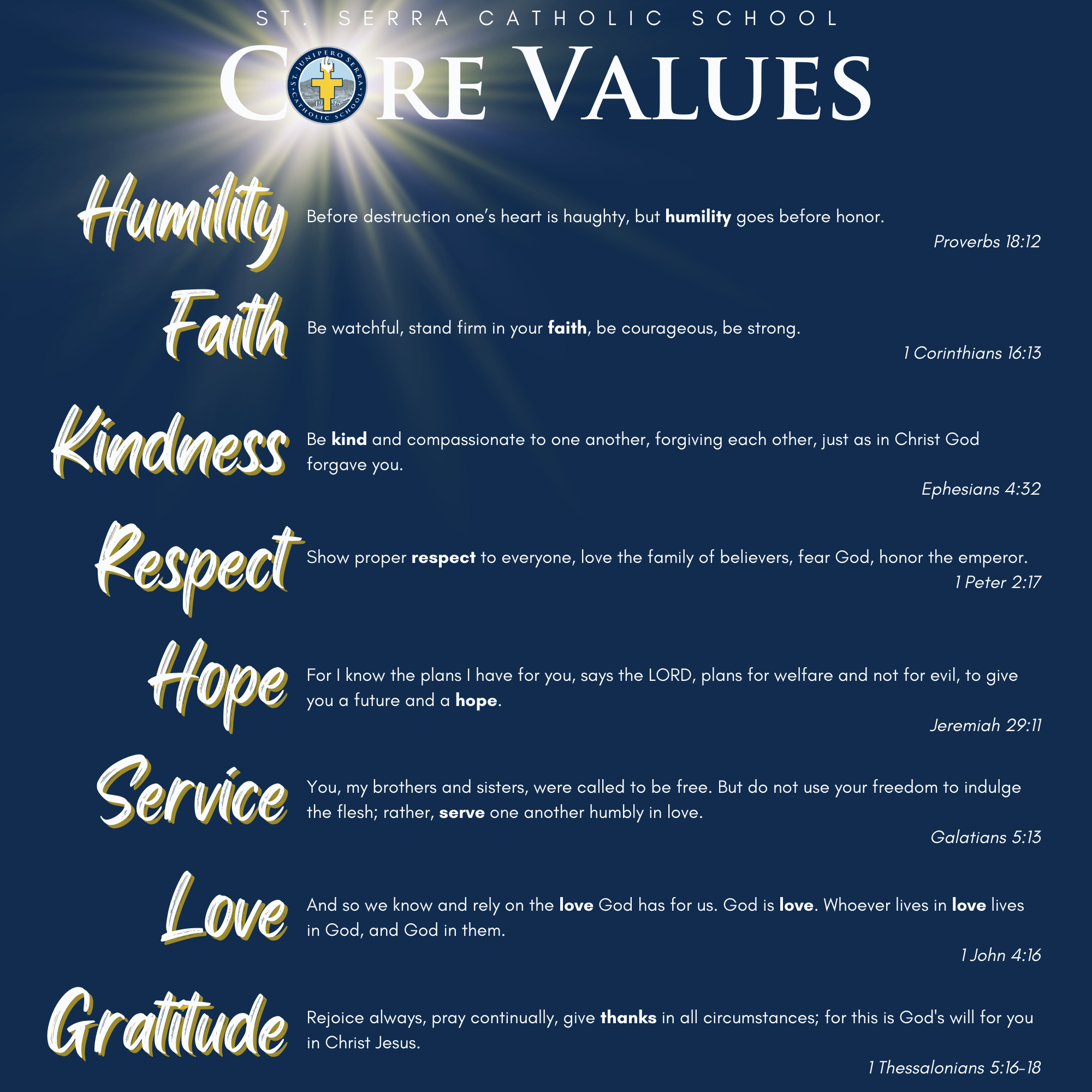 MARCH 2023 - SERVICE
SERVICE
The St. Serra Core Value that we will focus on during the month of March is SERVICE. Lent is a perfect time for us to explore the Christian concept of Service and how it applies at our school. It is my understanding that, as a practicing Catholic, service is a part of our religious duty both within and outside of our faith community. Whether it is volunteering in service to others or giving alms, we are called to help those who are less fortunate than ourselves.
Service to others has a significant effect on people. It benefits the recipient(s) being served as well as the person or persons serving others. It can be a humbling experience to have someone show you kindness without wanting anything in return. It can make you feel as though you are not worthy of their generosity, especially when you realize that there are many others who have it worse than you or could benefit more from someone's almsgiving. No matter your age, your background, or your religious affiliation, service is a crucial part of our everyday lives and a lifelong value that we aim to instill in our students here at St. Serra.
Last week I wrote about how our teachers and staff are examples of servant leadership in action. This is a great thing for our children to witness. It also sends a powerful and positive message to our students when their parents partner with their school by giving of their time, talent and/or treasure. It is not always easy to give or to serve, which is why Service is such an important concept for living a Christian life. As Martin Luther King, Jr. stated, "Everybody can be great because everybody can serve." And in John 13:15, Jesus sets an example for us to follow. After washing His disciples' feet — an act of love, humility, and service — He encourages us to follow His lead and serve one another: "I have given you a model to follow, so that as I have done for you, you should also do."
Always striving,

Tim Tolzda
Sr. Principal