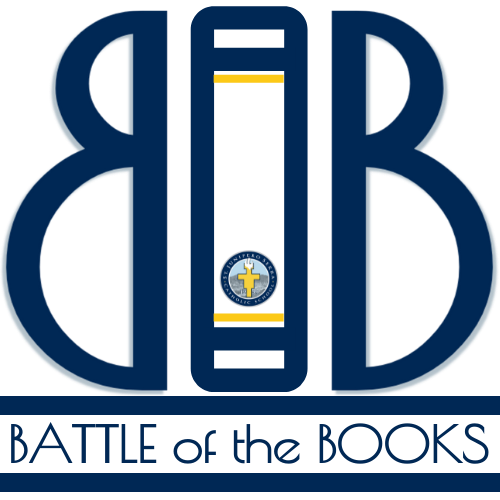 B.O.B. NEWS
St. Serra 2023 BOB Teams All Make It to QUARTER-Finals!

"In which book....?"

This is how all the trivia questions began at the Battle of The Books (BOB) Tournament, held at St. Margaret's Episcopal School on Tuesday, March 28, 2023. Our St. Serra BOB students were divided into three teams; the students chose their own team names: "BearSquad," "The Mysterious Bear Society," and "Our Bear is Our Destiny."

The morning of the competition, there were three rounds each with ten battles going on simultaneously in two different rooms. Each battle consisted of two teams competing head-to-head. They had thirty seconds to whisper amongst themselves, and the captain would then have to answer with the title and author. Teams received three points for naming the correct book title, and an additional two points for naming the correct author.

The afternoon rounds were the finals. All three of our St. Serra BOB teams made it to the quarter-finals; we were the only school to have every one of our teams qualify. One of our teams, "Our Bear is Our Destiny," continued on to a "sudden death" round with four other teams. All teams had forty seconds to write an abbreviated title and author on a white board, and at the end the captain would have to verbally name the full title and author. The first team with a wrong answer was eliminated. Our team survived four questions in this manner and made it into the finals.

The finals followed the same answer procedure with the white board. "Our Bear is Our Destiny" survived two eliminations to ultimately win third place!
Parent volunteers, Mrs. Deanna Coale and Mrs. Veronica Martinez, were instrumental in guiding our students this year, spending countless hours reading the twenty assigned books and studying them in detail. Mrs. Sandy Supple, our Librarian and BOB faculty advisor, said, "I am so proud and in awe of our BOB students this year. They should all be proud of what they accomplished and how far they got in the battle. Keep reading and Go BOB!"
Mrs. Ellen Burrola, Assistant Principal for the Lower School, said of Mrs. Coale, Mrs. Martinez and, and Mrs. Supple, "we are so thankful for these three devoted and amazing women, who have dedicated their time and their hearts to our Battle of the Books program since its initial meeting last summer. It's been a wonderful experience for the students, and the feedback from parents has been phenomenal. A big thank you goes out to Mrs. Coale, Mrs. Martinez, and Mrs. Supple for all their hard work and support."
Battle of the Books (or "BOB") is a voluntary reading incentive program for fourth and fifth grade students. The purpose is to foster a love of reading and to encourage students to read, analyze, and discuss a variety of good books. Participants attend weekly meetings at St. Serra and ultimately compete in a local tournament with other schools.
For questions about St. Serra's Battle of the Books program, please email Mrs. Sandy Supple: ssupple@serraschool.org.