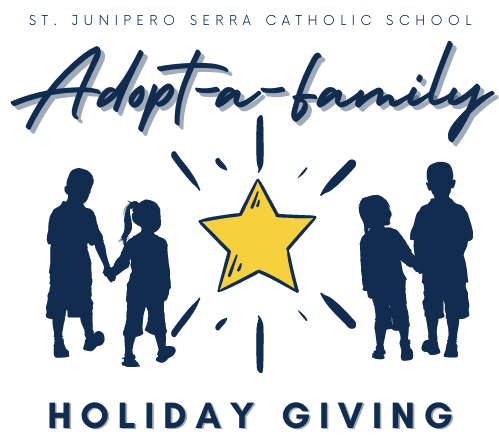 Adopt-a-Family 2022
'Tis the season... to spread joy and hope to others!

Please join us in our annual Adopt-a-Family gift drive, one of St. Junipero Serra Catholic School's most beloved traditions. We invite you to sign up for a gift (or gifts!) for your child to bring in to benefit the family your classroom is sponsoring. These families have been identified by Catholic Charities as in need of our support.
Gifts should be brought in BEFORE DECEMBER 9 (the sooner the better!) and should be wrapped or bagged and labeled for the appropriate family member. If you are contributing a gift card, please make sure it is in an envelope or gift card holder and labeled appropriately. We invite you and your children to include a note or prayer for the families receiving the gifts as well; personal touches are welcome!
Thank you in advance for your generosity! Feel free to reach out with any questions: adoptafamily@serraschool.org
A GIFT FOR STUDENTS!

Students who bring in a gift for their homeroom's adopted family by Friday, December 2 will receive the "gift" of a non-uniform dress pass for Tuesday, December 6!
"By this we know love, that he laid down his life for us, and we ought to lay down our lives for the brothers. But if anyone has the world's goods and sees his brother in need, yet closes his heart against him, how does God's love abide in him? Little children, let us not love in word or talk but in deed and in truth."
~ 1 John 3:16-18